2012 Loaring Triathlon Proceeds Support:

While the initial proceeds of our event went to the Canadian Cancer Society, our family had a very personal reason for later changing the focus. Our mother, Elena Loaring, lost her courageous battle with breast cancer in 2004. That year, our family shared this message with the community:

With extremely heavy hearts, we share the news of our loving mother's passing on January 21st, 2004, after a long and courageous battle with breast cancer. Though our lives are forever changed by this event, we take comfort in knowing that she passed away peacefully at 'The Cottage', with the sun shining down on her, with her favourite music playing, and with her family by her side. She is sadly missed by all. With great pride we remember her, and we continue to support other brave women in similar circumstances, by donating proceeds of the Loaring Triathlon to 'The Elena Loaring Memorial Fund for Breast Cancer Research' through the University of Windsor.

We were overwhelmed with the support received from our community, and in 2010 we proudly surpassed our goal of raising over $130,000 for the 'Elena Loaring Memorial Fund for Breast Cancer Research'. This fund will continue to self-generate at the University of Windsor for many years to come, with monies being used to support scholarships for graduate students conducting breast cancer-related research.

Our new charity for 2012 is the Windsor Regional Hospital Foundation. We are excited to give back to an organization that has shown world-class leadership and teamwork, and is filled with medical professionals that keep our community healthy, safe, and strong.

Donations may be made payable to "Windsor Regional Hospital Foundation", and mailed to:

Loaring Triathlon
c/o Loaring Physiotherapy & Health Centre
13126 Tecumseh Rd E,
Tecumseh, ON N8N 3T6

Receipts will be mailed for pledges over $20

Thank you for your generous support!
Pledge Incentive Levels:
Pledge Incentive Level
Prize
$150 to $299
Free Entry
$300 to $499
Free Entry +
1h Massage at Loaring Physiotherapy & Health Centre
$500+
Free Entry +
1h Massage at Loaring Physiotherapy +
LPC Gear (New Balance technical long-sleeve shirt, casual hoodie, mesh running cap, water bottle)

Charitable Tax receipts will be mailed for pledges over $20.

Please allow up to 8 weeks to mail tax receipts and prizes.

Thank-you for your support in helping raise funds for Windsor Regional Hospital Foundation

Click the form below to download the 2012 Loaring Triathlon Registration and Pledge Form: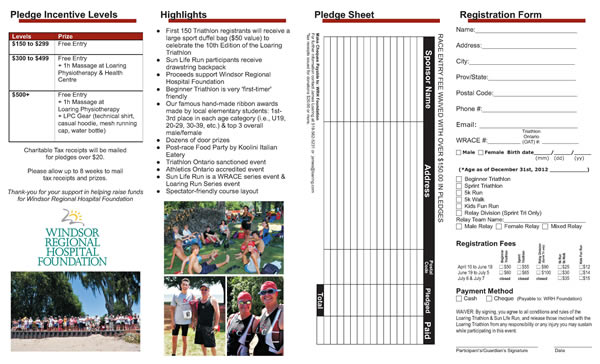 Proceeds support: